Because I get so many questions about custom design, I thought I would brief you on how it works.  It's not as scary as it seems and it is so fun to see a piece that you have worked on come to life.
The client and I will sit down and discuss their style and what they are looking for.  If they have gold they want to contribute or stones they have brought with them for the piece then we are obviously more limited.  Otherwise, the world is our oyster.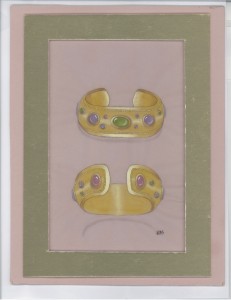 Some people come in and know exactly what they want – and that is wonderful!  If they don't, I usually suggest looking through magazines and the Internet to find the style and aesthetic they like and then go from there. Flipping through Vogue, Town and Country and browsing the Internet is an excellent way to get ideas.  It also helps me narrow down what kind of look you are going for.
Once we have narrowed it down to a ring, necklace, bracelet, pair of earrings etc… we talk about color and stones.  This is important because choosing between white and yellow gold, rose or green gold or even platinum can make a big difference when it comes to deciding what color stones you want to incorporate.  Next, I take a couple of weeks to come up with one or 2 sketches.  These are usually done in water color, gouache and pencil.  The client and I will then go back over the sketch, confirm or make any changes and agree on an estimate.  From there a master jeweler will take over as I work with him/her to make sure the design is accurately translated from paper into a wax carving.  A mold is then made of the carving, metal is poured in and the stones are set.  The polish, which is indicated in the design, is applied and the piece is finished and cleaned up.