Remember when we were in lower and middle school and it was all the rage to make friendship bracelets for yourself and all your very besties?  Well, I have found the newest and greatest version.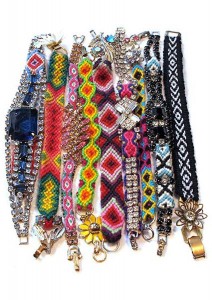 They are made by a couple of gals at http://www.friedaandnellie.com.  They are pretty pricey, $150, for friendship bracelets (but they are so cute!). I made my own version by finding an instructional video on  http://www.youtube.com/watch?v=E9GdATWGpJ4 .  After watching this a couple of times I was able to create my own 21st century friendship bracelet at a fraction of the cost.  I incorporated a vintage rhinestone bracelet I found at a flea market and that was all the sparkle I needed.
Though I have to admit, I love making my own jewelry, sometimes it is just never as good as the real thing, no matter how much money you saved.  Frieda and Nellie is adorable and maybe worth every penny once you remember how long it takes to make one.
This is a great alternative to a modern bracelet at an affordable price.  It is the kind of bracelet you put on at the beginning of the summer and never take off until September 1st.  To top it off – it is even adjustable.  It can be found at zhush.com.
And for the grand finale… this is a bracelet by Doloris Petunia.  She has gone above and beyond the call of friendship.