Seeing the picture of Cameron Diaz wearing that outrageous, to-die-for, turquoise necklace and earrings set,  in Mollie's last blog inspires me to write about turquoise.  My friend, the great 20th century designer Elizabeth Gage, says that color is her inspiration.  Well, if you love color, then you "gotta LOVE turquoise".
First of all, turquoise looks stunning on all of us…..blonde, brunette, or especially redhead. And isn' t that the point?
Try layering this fun turquoise pendant from Phillips Frankel ($1110 at our shop) with your existing gold pieces and notice how it makes all of your jewels look more vibrant and lux!
A whole lot of turquoise makes a STATEMENT.
There are some killer STATEMENT pieces from the 50's 60's and 70's.  And estate pieces can be a great value!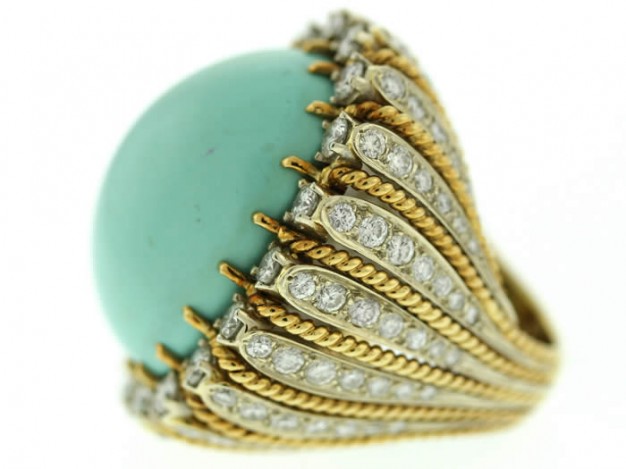 This enormous 1960's estate ring with 13 carats of diamonds is all you need to wear – I'm hoping a client of mine will buy it for his wife this Xmas.
And turquoise is especially chic when combined with other colored stones.
In the 1950's the ultimate combination was amethyst and turquoise – made famous by Wallis Simpson, the Duchess of Windsor.  Her Cartier bib necklace is perhaps the most famous turquoise piece of all time.  Of course, she was the trend setter – this necklace was actually made in 1947.
Mollie and I adore turquoise.  In fact, when we re-decorated our store this fall,  we used turquoise as our primary color.  We're even wallpapering the inside of our supply closet in turquoise and gold paper!