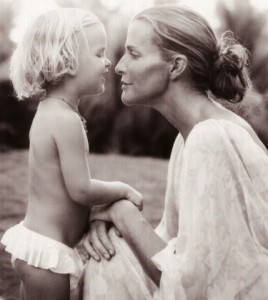 I wanted to do a little more on India Hicks and how cool she really is.  I found an interview she did for the Wall Street Journal that I loved.  Read on – I am sure you will love her as much as I do – in fact, I want to be her… jewelry and interior designer, beautiful, lives in the Bahamas, British royalty and all around member of the jet set!
"When asked if she has spoken to her godfather, the Prince of Wales, recently, India Hicks responded with a laugh, "I imagine he's quite busy." One could say the same of Ms. Hicks. Although the daughter of the late English interior designer David Hicks and Lady Pamela Mountbatten resides on remote Harbour Island in the Bahamas year-round, her schedule might just rival that of her royal cousin.
The one-time bridesmaid to Princess Diana, mother of four, author, interior designer and Crabtree & Evelyn creative partner, Ms. Hicks, 43, has now added ABC royal wedding correspondent and jewelry designer to her resume.
Her diamond-dotted line of graphic silver and gold charms, bracelets and earrings is inspired in part by her father's obsession with monograms. "They decorated everything," she said. "The door of my mother's car, the sides of our suitcases, brown paper notepads with a simple white 'H' at the top, even my father's cigarette case." Mr. Hicks also incorporated alphabet prints into his home furnishings and a line of ties and scarves in the 1970s that were favorites of Prince Charles and the Queen, respectively.
We caught up with Ms. Hicks as she prepped for her television appearance.
The outfit I feel most beautiful in is jodhpurs and a riding crop. The riding crop gets me some respect.
The perfect getaway for me is biking around Eleuthera in absolute peace and quiet. I go 30 miles with nothing and no one, and no interruptions whatsoever.
My beauty secret is sleep. Unfortunately I've been pathetic and am launching a website and a jewelry line at the same time so I'm getting about six. Eight hours a night would be luxurious!
I'd liked to have lived as Cleopatra. She didn't take any crap from anyone, had lots of children out of wedlock, was intelligent and witty, known for her abilities and was a good stateswoman. I like most that she didn't take any crap.
The beauty product I can't live without is Smith's Rosebud Salve.
I almost exclusively wear black or white bikinis from Melissa Odabash.
If I could only wear one designer for the rest of my life it would be Ralph Lauren. And I love Victoria Beckham. I'm wearing one of her dresses to the royal wedding.
My fondest memory from Diana's wedding is the King of Tonga passing me boiled sweeties down the aisle of the cathedral. He sat in a special big pew because he was rather large.
I never take off my mother's diamond line bracelet. It's an old-fashioned term for a simple, very thin, discreet row of diamonds. My mother used to stack them with others—rubies and emeralds—but I just wear the one.
A woman I'd love to have wear my jewelry is Michelle Obama—while she's on TV. That would help me sell a few.
The thing I'm most looking forward to when I cover the royal wedding is the car to the airport. Just kidding. It's the lead-up to the day that's really fun—Regent Street is already so beautiful with decorations. It's the wonderful side of being British, how we embrace these events. I'm really excited and flattered and proud to be a royal in it.
The most rebellious thing I ever did as a teenager was drive to Italy from England at 17 without my license. I was going to meet Emilio Pucci and when I arrived he made me model all of his catsuits.
I love white sheets. I don't care what kind or what thread count as long as they're white, clean and ironed.
My favorite cocktail is a Pimm's No. 1 Cup. We grow our own mint, so I add that in.
I'm hooked on sport. I snow ski, water-ski, ride, hunt. I've run three marathons and climbed inside the Grand Canyon.
The person whose style inspires me most is Charlene Whittstock, a distant relative. She's about to marry Prince Albert. She's incredibly glamorous and has an understated elegance about her.
My fondest childhood memory is munching on Bassett's Liquorice Allsorts. They were my life raft at Gordonstoun boarding school in Scotland, where Prince Charles also went. I can't get them on the island, so friends bring some from England—then my family has to hide them from me."
—Edited from an interview by Alexa Brazilian