Today I am doing a joint post on India Hicks of The Sugar Mill on Harbour Island, with my very good and talented interior designer friend, Ryland Woodard, of Ryland Woodard Interior Design.  While Ryland is stylishly writing and compiling pictures for her blog on Hicks' interiors, I am taking charge of her lovely jewelry line.
I am sure you all are familiar with her from this famous picture above, at age 13, as a bridesmaid in Diana's wedding; and also because she is interior design royalty.  Not only is she the daughter of the famed interior decorator, David Hicks, she has taken his legacy and run with it, creating her own lifestyle brand infiltrating people's homes with island life and british elegance.
Hicks has done and amazing job of editing her jewelry line into 3 collections: Initials, Hicks on Hicks and Island Life.  All 3 are honed down to basic ideas and shapes that reflect both her life and that of her famous father.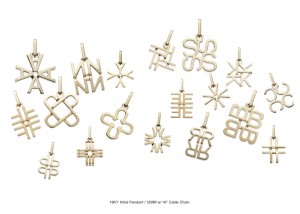 In the Initials collection, India tips her hat to her father.  She has adapted the initials and his love of monograms, that launched his business brand, into a customized collection of initial pendants.  From the picture above, you can see that her design is not only an updated version of the over-done customized initial pendant but it is a design that will last throughout the years. She has created something that is trendy but also a classic, using 18k gold, diamonds and silver.
In her Hicks on Hicks collection, she was inspired by her father's "famous hexagon pattern; this collection is modern and architectural".  There are some bold statement pieces, cuffs, pendants and cocktails rings using the famous pattern but she updates the pieces with a matte finish, giving it an even more unexpected element.
And finally, Island Life is inspired by her life in the Bahamas, where she lives with her 4 children and husband.  India has designed this line to reflect the nature of island living, her love of patterns and her chic yet laid back personal style.