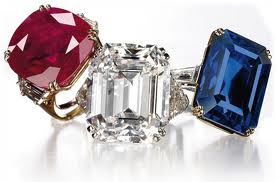 On Monday Brazilian philanthropist Lily Safra sold a collection of her jewels to benefit 32 charities around the world. She is the widow of billionaire banker Edmond Safra who died several years ago in a fire in Monaco. Christie's hosted the sale in Geneva and the response was overwhelming with a staggering $37.9 million dollars raised (double the pre-sale estimate).
The highlight was yet another world record price – this time the highest price ever paid at auction for a ruby.  And at a whopping 32.08 carats, this is quite a ruby! Not bad for 6.7 million dollars! Personally, I like her 34.05 carat D VVS1 Type IIA emerald cut diamond…..not a bad price for the buyer, actually, at 5.12 million considering that Elizabeth Taylor's 33 carat Krupp sold for 8.8 million just months ago.
The sale benefits the following charities. THANK YOU MRS. SAFRA!
The 32 organizations that will benefit from the sale are as follows:
* Agahozo-Shalom Youth Village, Rwanda
* ALEH: Caring for Israel"s Disabled
* Alfredo J. Monteverde School, Natal, Brazil
* A Window to Tomorrow – A Computer for Every Child, Israel
* Children Action, Geneva, Switzerland
* Claude Pompidou Institute for Alzheimer"s Disease, Nice, France
* Edmond and Lily Safra Center for Brain Sciences, The Hebrew University of Jerusalem
* Edmond and Lily Safra Children"s Hospital, Tel Hashomer, Israel
* Edmond J. Safra Family Lodge at the National Institutes of Health (NIH),Bethesda, Maryland
* Elton John AIDS Foundation (worldwide)
* Fight AIDS Monaco
* Henry Street Settlement, New York
* Hope and Homes for Children, Romania
* Hôpitaux Universitaires de Genève
* Imperial College, London: Edmond J. Safra Chair in Neuropsychopharmacology & Edmond J. Safra Chair in Radiochemistry
* Institute for Brain and Spinal Cord Disorders, Pitié-Salpêtrière Hospital, Paris
* Israel Philharmonic Orchestra
* Jordan River Village Camp for seriously ill children
* Keren Shemesh, Israel
* King"s College, London: Edmond and Lily Safra Parkinson"s Research Fellowships
* Le ballet de l"Opéra national de Paris
* Les Restaurants du Coeur, France
* Michael J. Fox Foundation for Parkinson"s Research, USA
* Museum of Jewish Heritage, New York
* New York University, Parkinson and Movement Disorders Center
* Royal Opera House, London
* UNICEF, USA
* Université Joseph Fourier, Institut des Neurosciences, Bâtiment Edmond J. Safra & Institut Clinatec, Centre de Recherche Edmond J. Safra, Grenoble, France
* University of Toronto and Toronto Western Hospital, Canada: Edmond J. Safra Program in Parkinson"s Disease (Dr. Anthony Lang & Dr. Andres Lozano)
* Water Treatment Program, Amélia Rodrigues (Bahia), Brazil
* Yad Vashem International School, Israel
* Yahad-In Unum, France