Jewels from late 1930′s truly speak to me and I can spot them from a mile away.  This sapphire and gold bracelet by Rene Boivin says it all…..Bold, chunky, articulated, sexy! A MUST HAVE for the serious collector.
When you think late 1930′s jewels, think of the architectural movement Art Moderne as epitomized by the famous Coca Cola Building in LA (1939).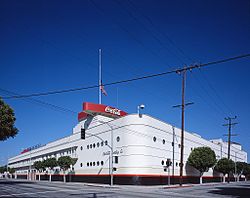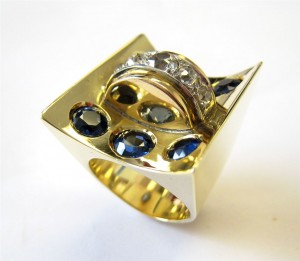 Look at the ring I found last week and HAD to buy for myself.
"Retro" 1940′s pieces are easy to find. They usually have small rubies and diamonds and rose gold.   True late 1930′s pieces are not easy to come by.  They have bigger stones – and many like this ring have sapphires rather than rubies. Metal can be platinum, yellow gold, rose gold, or a combination of yellow and rose.
The creme de la creme will have french hallmarks and be signed by the likes of Van Cleef, Boivin, Belperron, or Cartier. Perhaps the most famous of all is the Duchess of Windsor's "wedding contract" bracelet by Van Cleef (1937).