is Olivia Palermo.  When I first saw her, it was on MTV's "The City".  She was Whitney Port's nemesis and not a very nice girl.  A lot has changed since the show began (it is now cancelled).  Whitney is seldom in the spotlight and Olivia has risen to the cream of the crop when it comes to fashion and style's leading ladies.  I love the bronze collar necklace, above, that she wears with an otherwise ordinary black top.
Once again, she pairs a statement necklace with a dark, relatively neutral dress.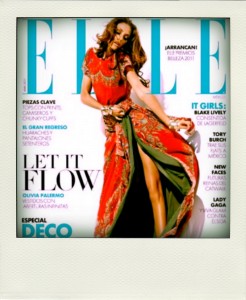 And here she is on the cover of the April issue of Elle Magazine, Mexico.