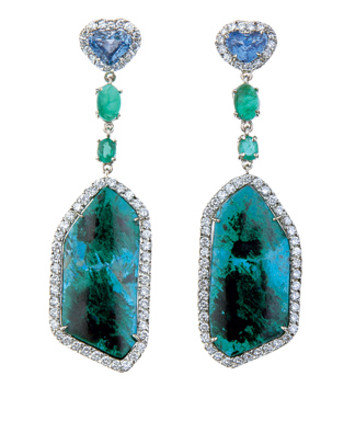 I think it must be the nature of the beast or the burden I must carry being in the jewelry business, but I am constantly finding things that I MUST HAVE!!  In fact, it happens at least once week.  I am always seeing something new from a designer I have never heard of, something new from a designer I love or something old worn years ago that has resurfaced at an estate sale.  I am also constantly churning out new ideas for clients so I am always thinking of something new to design and eventually wear.
Today I leave you with my current obsession – Kimberly McDonald Jewelry.  I am kick starting this series with her because I have been obsessed with her stuff since Christmas and that says a lot.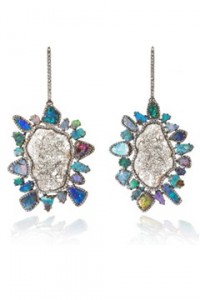 Her signature look combines geodes with diamonds and gemstones.  She has made a name for herself by using organic materials and combining them with more refined stones and metals, coming up with a mixed style of glamor and boho chic.
Here she has combined a pale purple geode with complimentary precious stones.  We have a desert rose druzy at the shop just waiting for someone to wear it as a cocktail ring.