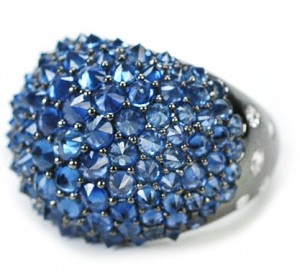 One of my new favorite designers is Nam Cho.  With a background in fashion, after designing  for Narciso Rodriguez and Richard Tyler, she went out on her own to design a jewelry line.  She has created a beautiful line with a an edginess to it that speaks to contemporary and fashionable women while at the same time crafting jewelry that is timeless and pieces that truly are an investment.
Take a close look at the ring above.  Instead of setting the stones in the traditonal way – she has done something slightly unexpected; she set the stones inverted, so their points (pavilions) face upward creating texture and a depth of color with facets that normally would remain unseen.
For more info on Nam or to see more of her pieces, please feel free to contact us or stop by the shop.