Today's Featured Jewel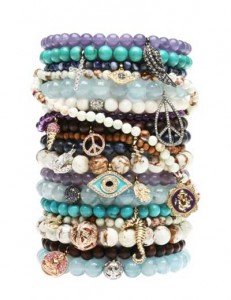 These Sydney Evan bracelets can be seen on several Hollywood starlets.  They are hip and trendy and can be customized to express whatever your heart desires.  Using precious and semi-precious stones in signature designs such as evil eyes, hamsas and good luck charms, Sydney Evan combines clever charms with beautiful semi-precious colored beads to achieve a new and different combination every time.  No one stack is alike – wear them with 3 or even better with 10.  The more the merrier!  Prices starting at $400.
MERRY CHRISTMAS!  Yours for 40% off.