Not all opals are for old people – they can easily be updated with a new setting or glammed up with a little color.  Opals come in so many colors, some with the opalescence or color flash and some with out.  This necklace, by Carolyn Tyler, captures the neon blue and turquoise colors of the boulder opals.  The dark color of the 22kt gold really accentuates the bright blues.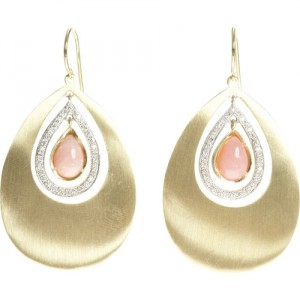 The above pair of pink opal earrings can be found at Barneys.com, designed by Irene Neuwirth.  They are mounted in yellow gold with white diamonds set in white gold.  Would look great with a spring floral dress or a cute top with white jeans.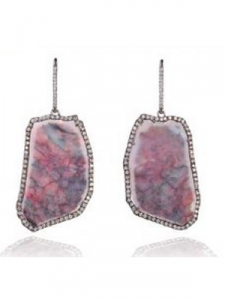 These are very sexy and cool, black opal earrings set with blackened diamonds.  Once again, KMD (Kimberly McDonald) has hit it out of the park!  I love all her stuff.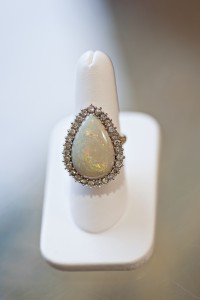 Last but definitely not least, is a stunner for a cocktail ring we have at the shop.  The size of this opal makes it cool – it takes up a sizable amount of your finger and can be spotted from across the room, plus the 1.5 carats of diamonds make it sparkle.  Priced at about $2500 – it is a bargain!