on the J. Crew website; a signet ring.  I can't remember the last time I saw someone under the age of 12 wearing one of these but I do believe they are making a comeback and I want one!  How many of you had one in middle school and high school?  I had 3.  I loved all of them and can't wait to get one for my kids but mine will not follow the traditonal rules of a signet with a standard monogram, blah and boring.
Here is Cathy Waterman's take, above (and below).  I love it because it incorporates a modern design with the traditional aspects of the old.  I would wear this every day.  You could even add your husbands initials to the opposite side or add your kids' initials, a date, birthstones, diamonds or a word that means something personal… whatever floats your boat.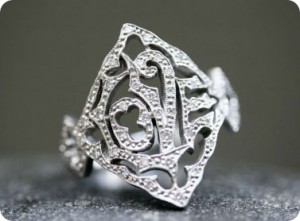 If you have any extra gold lying around in that jewelry box of yours or want to melt down the old one and come up with something new – now is the time.  It would make a perfect anniversary gift or baby gift.