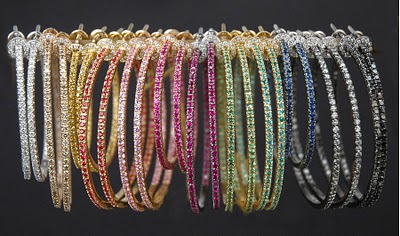 Of Hoop Earrings, of course!
Every girl must have a pair of hoops.  They can go with just about anything and can be worn anywhere, a great basic.  There are lots of factors that make up the "perfect pair" but mainly it comes down to silver or gold, the diameter of the hoop and whether or not they have stones included.  Jennifer Meyer has a great pair but they are a little too delicate for my lifestyle.  I need mine to be durable enough for the gym, children and most of all I need to be able to chat on the phone without bending my earrings.
Jordan Schlanger makes my favorite pair and they can be purchased at our store.  They come in 5 different sizes, with diamonds, emeralds or rubies and have been flying off the shelf!
And what girl wouldn't want a pair of 3 carat diamond hoops?
One of our favorite designers, Nam Cho, makes a gorgeous hoop in just about every color. How gorgeous are these?  We're told that Neiman Marcus cannot keep them in stock! Interesting, since the smallest size sells for $3790…..a good sign for the economy perhaps?