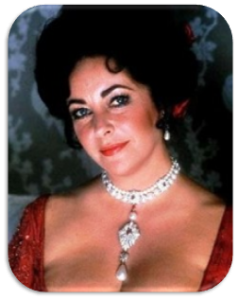 One of the most famous women to wear pearls and really put a famous face to the gem was Elizabeth Taylor and one of her most precious pieces of jewelry in her collection was the Peregrina Pearl.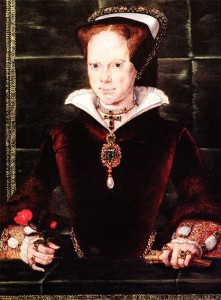 The size of a pigeon's egg, this pearl has a colorful history and dates all the way back to the 1500′s.  It was found by a slave diving in the Gulf of Panama and made it's way to Queen Mary Tudor.  Eventually, in the 1800′s, it became part of the French Bonaparte family but they had to sell it to settle up some debts.  Once they sold it, very little is known about the pearl until it resurfaced at an auction in 1969, where it was sold to Richard Burton for $37,000.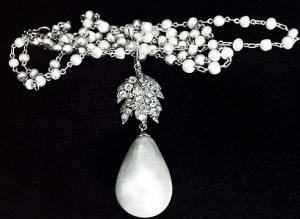 Above is how it appeared when Richard Burton purchased the pearl.  However, it didn't stay that way for long.  Elizabeth, herself, is quoted as saying:
"I had recently received the Peregrina on the little chain and I was touching it like a talisman.  We had the top floor at Caesar's Palace and walking back and forth through the room I reached down to touch the pearl and it wasn't there!  I glanced at Richard and thank God he wasn't looking at me, I went in to the bedroom and buried my head into the pillow and screamed.  Very slowly I retraced all my steps in the bedroom in my bare feet.  I was walking by the white Pekingese and Richard's brown Pekingese with all the puppies, it was feeding time and I said "Hi babies, such sweet little babies…" then I noticed one of the puppies chewing on a bone—I thought—we don't give our puppies bones!  I just casually opened the puppy's mouth and inside was the most perfect pearl in the world—and thank God—not scratched!  Richard loved that pearl, anything historic was important to him.  This pearl is unique in the world of gems, it's one of the most extraordinary pieces there is and I knew that he was proud inside. I did finally tell Richard—but I had to wait a week!"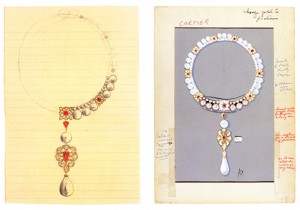 Then it wasn't long before Elizabeth brought the pearl to Cartier where she worked with a designer there and had it transformed into the necklace seen below.  Some people say she had it redesigned because it was scratched by the puppy but she says it was to bring it back as closely as possible to it's original setting while still imparting her sense of style.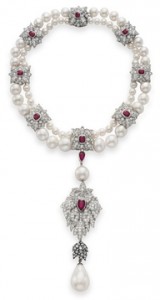 Clearly, this pearl can stand the test of time and though styles and trends come and go, you can always recreate pearls to make them more current or fashion forward.
Join us for our Holiday Pearls Trunk Show, December 4th, 10:30-6:00.